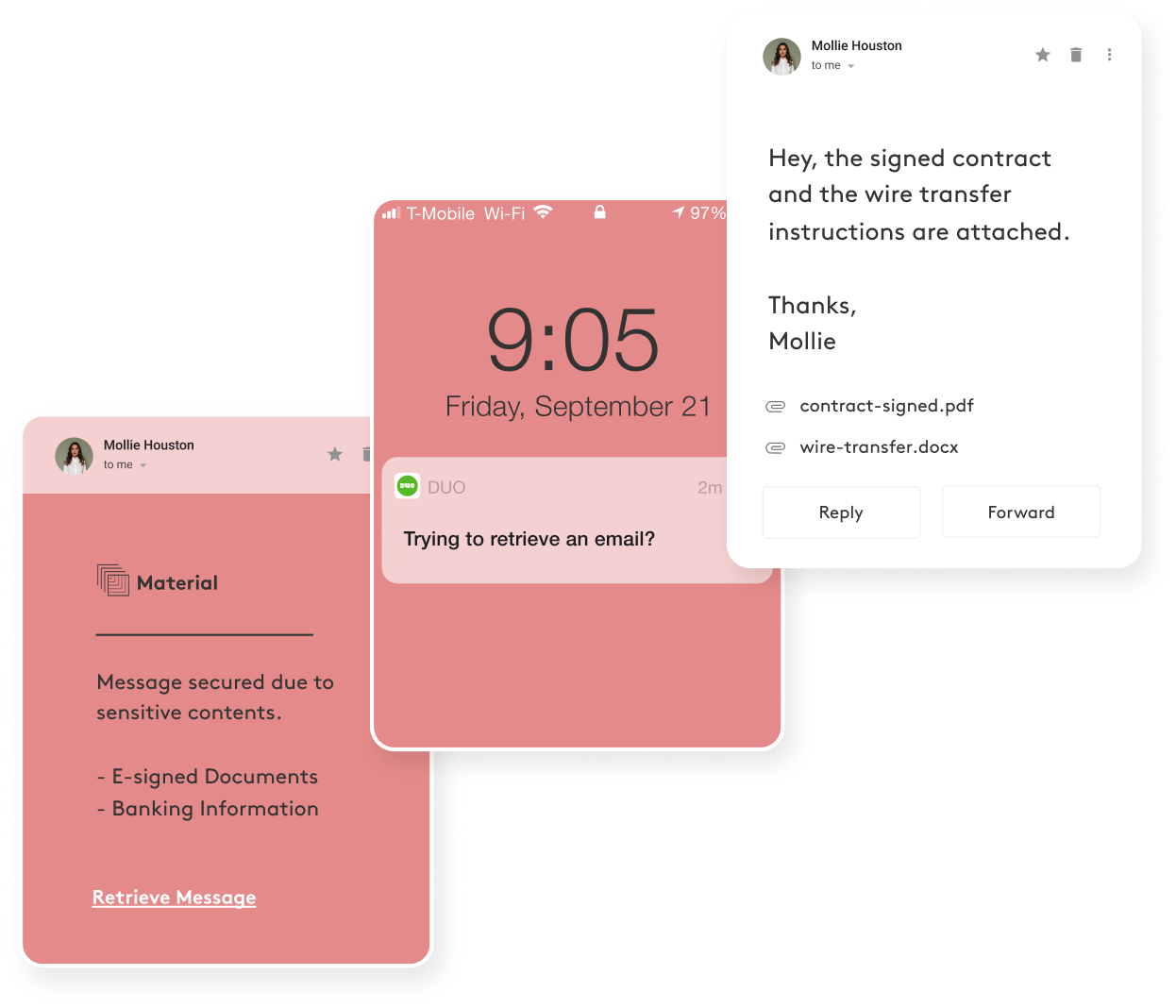 Leak Prevention
Stop email leaks
from the inside out
Protect critical data in employee, partner, contractor, and VIP accounts—without hurting productivity. Material finds and redacts sensitive content in email archives and brings it back when you need it, after a simple verification step.

"At Gusto, we protect sensitive data wherever it lives, including email. We use Material because it's well tuned, focused, and does a great job."
— Fredrick "Flee" Lee, CSO, Gusto
A treasure trove of sensitive content
From PII to financial reports to customer data, mailboxes are vast repositories of sensitive content. Unchecked access to these messages increases the risk of data loss, compliance woes, and reputational damage.
Traditional DLP filters try to block emails in transit but ignore the thousands of messages sitting at rest. Other approaches force an impractical trade-off between the security risk of retention and the productivity hit of deletion.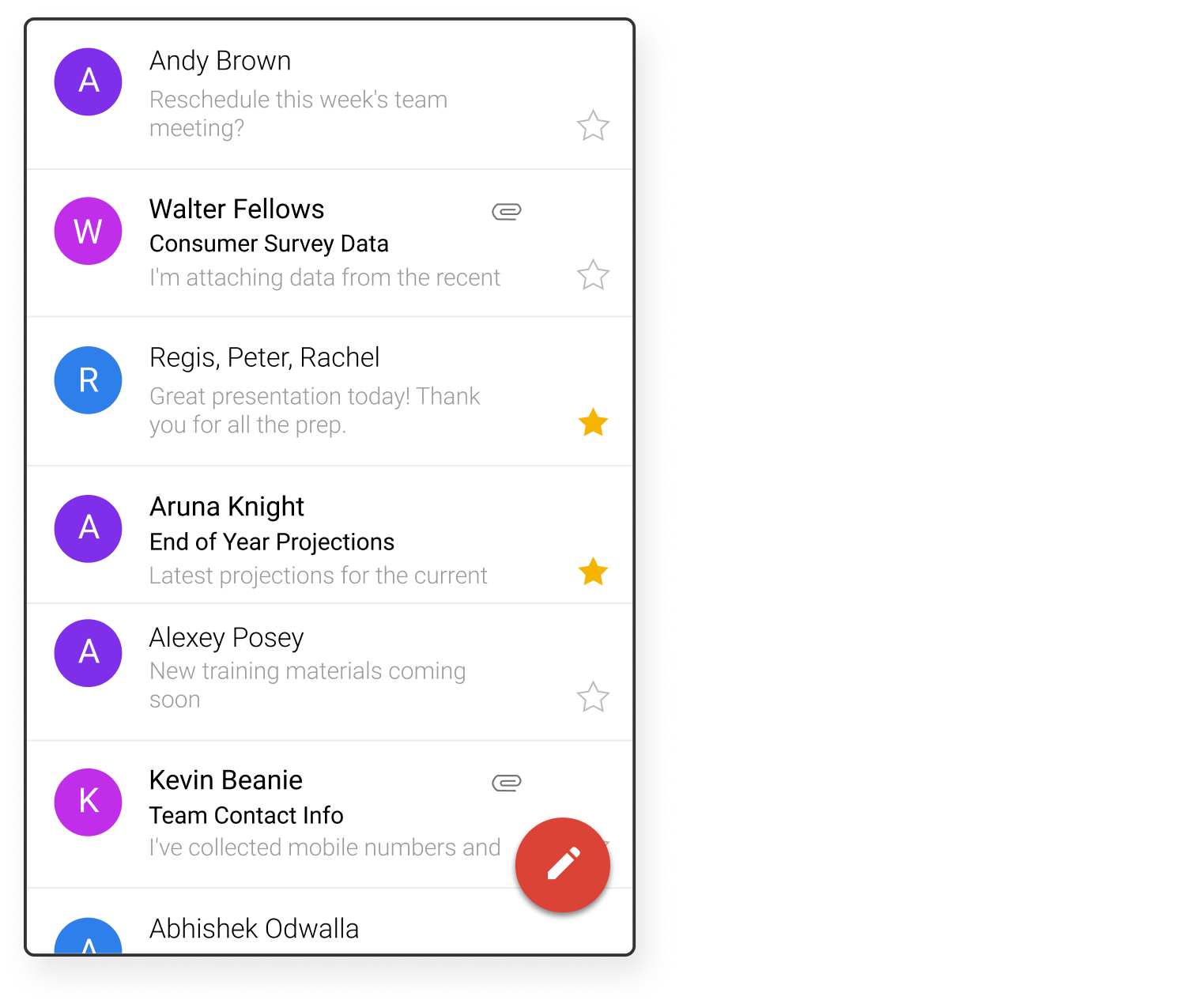 Leak Prevention from Material
Find and Redact
Automatically protect messages with PII, financials, customer data, and other built-in classes of sensitive content. Secure one-offs manually using native labels or folders.
Challenge
Use your SSO or MFA provider or a custom verification mechanism to authenticate access requests.
Unlock
Access messages directly in mailboxes after verification. Unlocking works across all devices and mail apps without any per-user installs.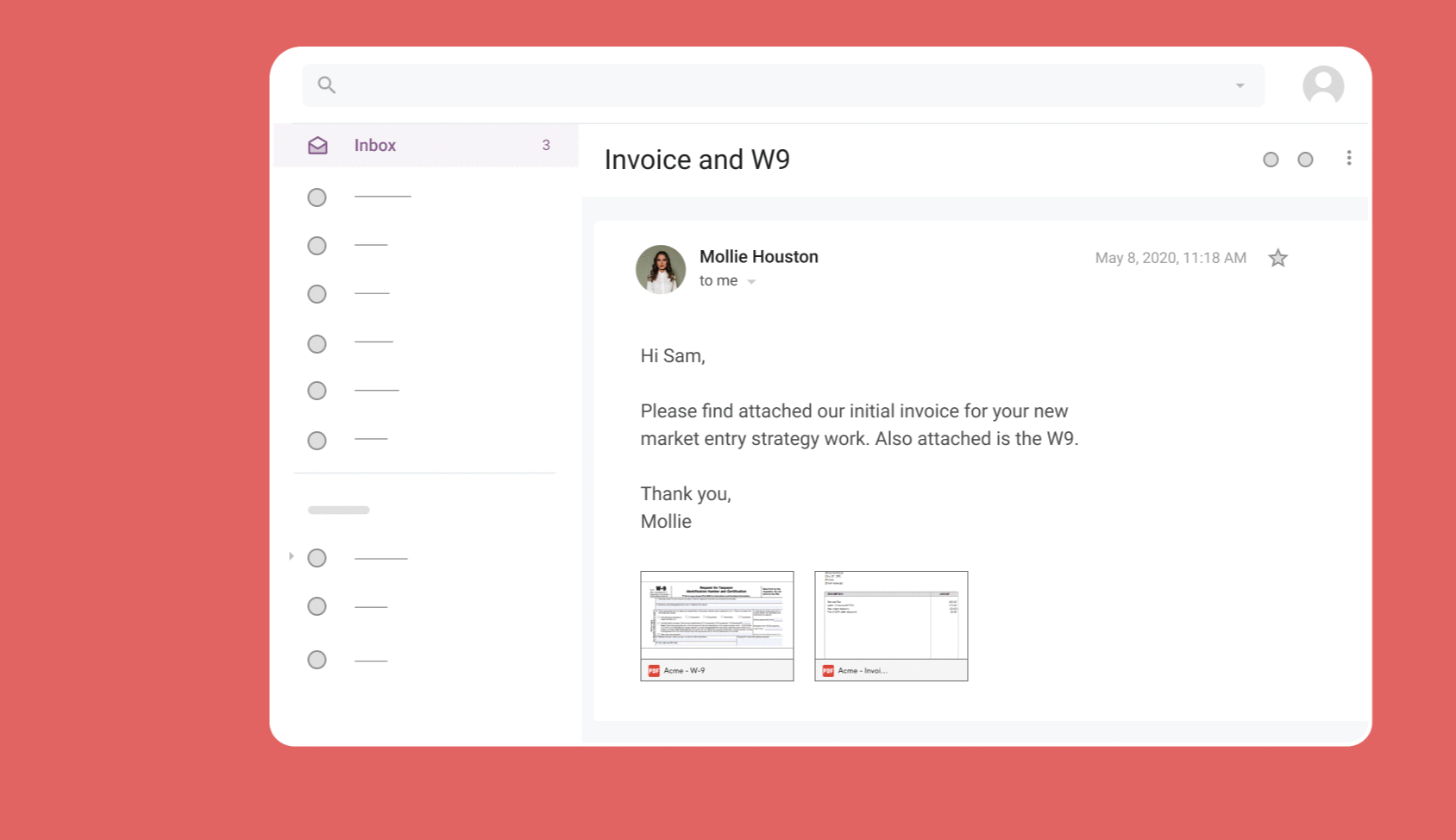 Grace Periods
Customize when messages will be redacted to secure content while staying out of users' way.
Tailored Protection
Set classification, redaction, and unlocking settings by data type, user, department, or domain.
Audit Log and Alerts
Monitor, alert, and rate-limit sensitive content access with built-in audit logs and controls.
Designed for simple deployment and full control
Flexible deployment
Implement protections selectively for specific users or teams. Material deploys via APIs without affecting email delivery. No agents, plugins, or end-user onboarding required.
Your data, owned by you
Every deployment of Material is an isolated, private instance that
 can be managed by Material or 
exclusively by your team for total control and includes audit logs.
Extends existing
 investments
Material integrates with identity providers such as Okta, Duo, and OneLogin as well as common SIEMs.
You can't protect what you can't see
What types of sensitive content exist in mailboxes? Which users have the most to lose? What has been shared externally?
Material's Risk Analytics clarify the scope of a breach before it happens, with zero impact to end-users.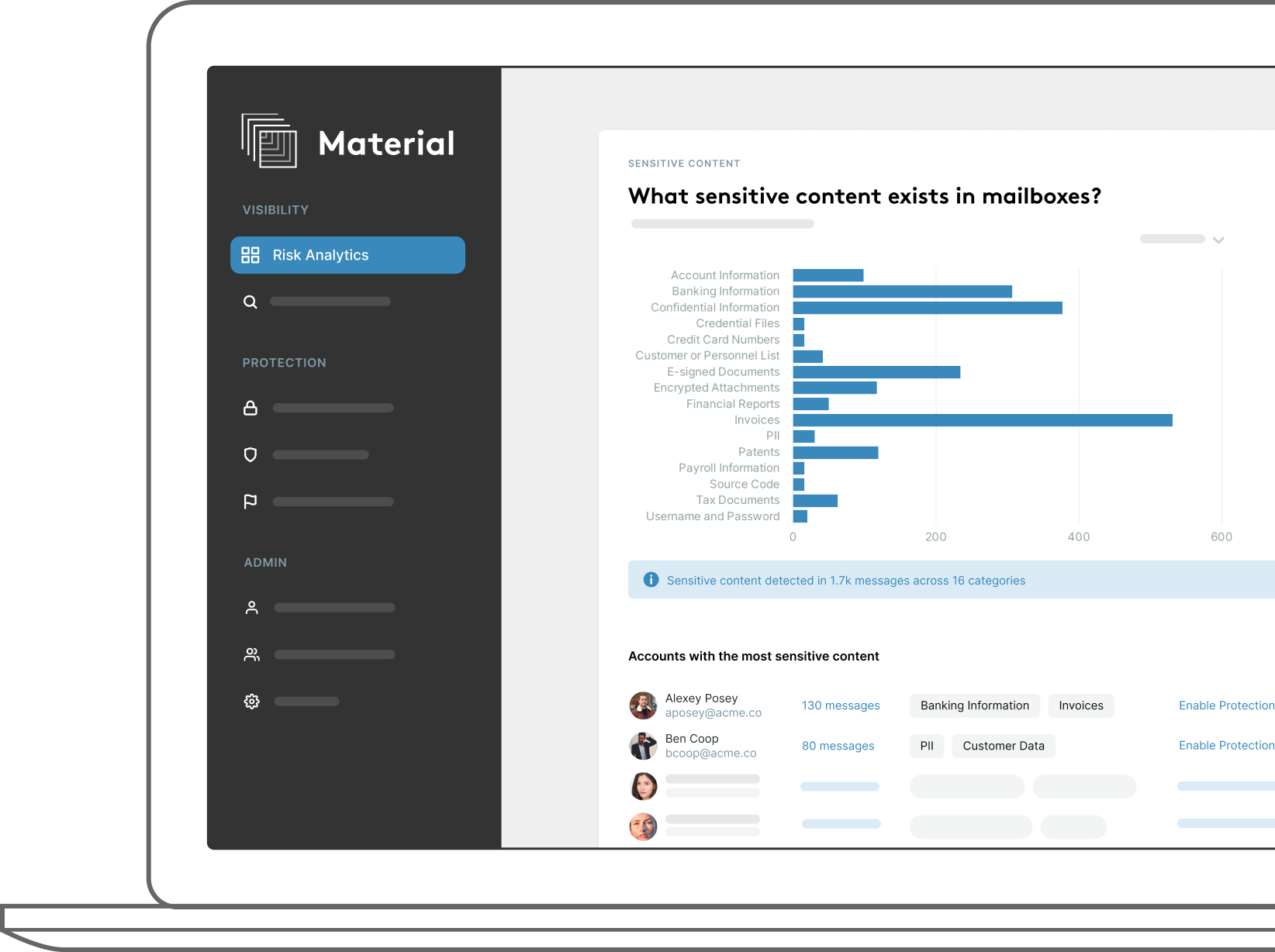 How proactive organizations use Leak Prevention
Protect critical internal communication (e.g., Finance, Legal, HR)
Maintain compliance and privacy for PII and PHI
Gain independent control for third-party data requests
Secure communications for a remote workforce 
Protect client data and confidentiality
Defend against misuse and insider threat (especially during offboarding)

"At Gusto, every employee is serious about protecting our customers and ecosystem. We are using Material to take full advantage of the underlying APIs in our cloud email to protect against phishing, reduce ATO attacks, prevent sensitive data leakage, and more."
— Fredrick "Flee" Lee, CSO, Gusto
Our demo starts with an attacker in a mailbox
Request a quick product demo to see how Material can protect your sensitive data even after account compromise.